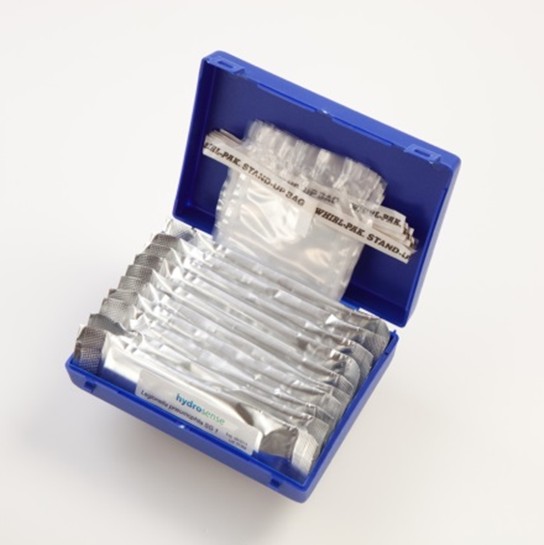 Basic test kits

No Recovery Buffer
No Sample prep

Sample Type: water from any source
Sample Volume: 0.1 ml
Sensitivity: 100,000 CFU/L 100CFU/ml
Pack Size: 10 Tests
Result in 25 minutes
Part no: 100104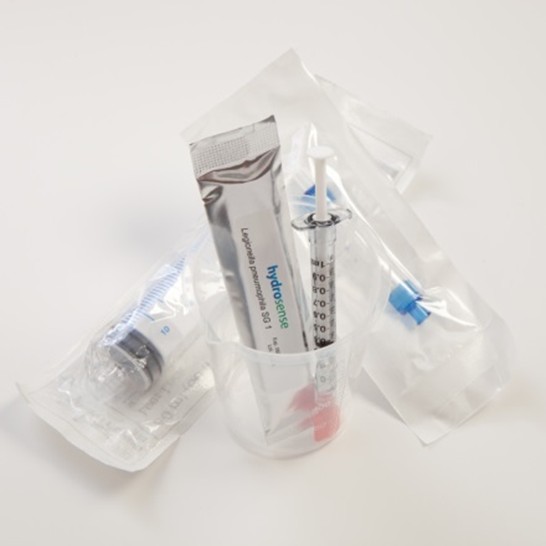 Basic test kits

No Recovery Buffer
No Sample prep

Sample Type: water from any source
Sample Volume: 0.1 ml
Sensitivity: 100,000 CFU/L 100CFU/ml
Pack Size: 10 Tests
Result in 25 minutes
Part no: 100104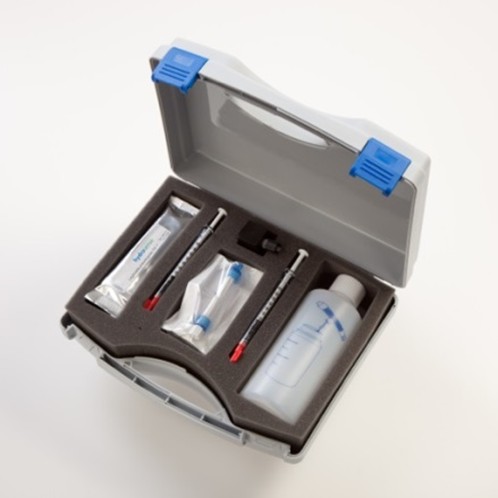 Most Sensitive of all tests
Sample Type: water sample obtained by connection to pipe fitting

Plumbing Systems
Cooling Systems

Sample Volume: 250 ml
Sensitivity: 100 CFU/L
Pack Size: 5 Tests
Less than 10 minutes filtering and 25 minute test
Part no: 100182
Legionella bacteria can cause a pneumonia-like disease called "Legionnaires' Disease". Legionnaires' Disease is fatal in approximately 15-20% of people infected. Infection occurs when the bacteria is inhaled from aerosols of contaminated water. Aerosols can be produced anywhere water is splashed or sprayed, but some of the most common sources associated with Legionnaires' Disease are cooling towers and showers.
The Hydrosense Legionella test detects the antigen of Legionella pneumophila serogroup1 (LpSG1). According to the latest European CDPC report (2011) LpSG1 caused 88% of all cases of Legionnaire's disease and historically has caused all outbreaks to date.
The Hydrosense test is used in a wide variety of sectors. We have customers in almost every industrial sector, including education, food and beverage, hotels and spas, shipping, tourism and leisure, offshore oil and gas, conventional and nuclear energy, dust and odor control, hospitals and care homes and many more.
Many of the benefits are the same for each sector, but all have their own particular advantages and requirements.
The common benefits are
The Hydrosense test is on site. No need to transport samples to labs.
The Hydrosense test is fast, simple to use, accurate and can be used anywhere. Effectively you carry the expertise of the lab in your pocket.
While a positive result is bad news, it is better to know immediately so that you can take remedial action, prevent infection, protect staff and clients and, consequently, your reputation and business.
Imagine if your system was infected and you did not know. Without a rapid test, your uncertainty will continue for 10-14 days from the date of sampling until the laboratory results. During this time you may continue to expose your staff/public or have to shutdown facilities to prevent exposure.
Once you have taken remedial action you can use the Hydrosense test to check the impact. Hydrosense will let you know in 25 minutes if treatment has been effective.
Effective remedial action should completely remove all traces of bacteria from your system within 24 hours – giving a negative test result on the Hydrosense test.
By detecting antigen, rather than relying on culturable cells the test gives a better warning of Legionella growth within a system. Motile Legionella are not in a culturable state.